Ballyclare-based Chain Reaction Cycles sees its profits rise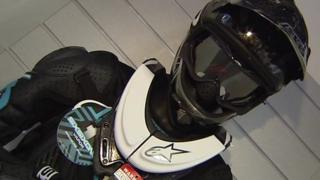 Ballyclare-based Chain Reaction Cycles has posted a rise in annual profits, despite lower sales for the year.
The company is one of the world's largest online retailers of bikes, bike parts and cycling accessories.
It reported a 6% drop in sales in the 12 months to 31 December 2013, from £155.6m to £144.9m.
But pre-tax profits increased to £4.8m from £861,000, attributed to improved sales margins and "significant overhead cost savings".
Chain Reaction Cycles started in 1985 as a family run bike shop in Doagh, County Antrim, owned by George and Janice Watson.
The company is still majority owned by the Watson family and is headed by their son, Chris Watson.
It now operates across several warehouse and office facilities in the area and employs more than 600 staff, selling to 180 countries.
The directors of Chain Reaction plan to expand its range of own-brand products and expect the business to keep growing.
"The underlying fundamentals that have provided positive momentum to participation in cycling remain strong," the report said.
"Advances in technology and materials, political incentive to improve public health and reduce traffic congestion and increased media exposure from high-profile global events.
"This resilience supports indications that suggest the market will continue to expand over the next five years."