Stephen Carroll murder: John Paul Wootton's minimum jail term increased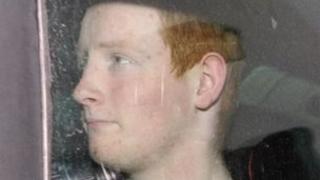 The minimum prison term to be served by one of the murderers of Constable Stephen Carroll will be increased by four years, the Court of Appeal has ruled.
John Paul Wootton's tariff will increase from 14 to 18 years due to aggravating factors in his role in the killing.
He was found guilty of the murder, along with Brendan McConville, in March 2012.
They are both serving life sentences.
At the hearing earlier, judges also confirmed they would not interfere with the minimum 25-year sentence to be served by co-defendant Brendan McConville.
Constable Carroll, 48, was shot dead in Craigavon, County Armagh in March 2009.
His widow, Kate, had described the sentence handed to Wootton as "disgusting".
Lenient
In May, both men failed in attempts to have their mconvictions overturned.
McConville, formerly of Glenholme Avenue in the town, and Wootton, from Lurgan, were also convicted of possession of an AK47 assault rifle and ammunition with intent to endanger life.
Wootton was also found guilty of attempting to collect information likely to be of use to terrorists.
Earlier, at the Court of Appeal, Director of Public Prosections Barra McGrory had argued that both men's jail terms were unduly lenient.
He said that a deterrent element should be considered for the killing of an on-duty police officer by those seeking to terrorise the community for political or ideological motives.
A senior judge said the trial judge had properly taken into account all the aggravating factors in handing down a minimum 25-year term on McConville.
Terrorist
Turning to Wootton, the judge added there was no suggestion he planned the attack or fired the fatal shots.
However, he added: "He was a willing participant in the terrorist murder of a police officer. The precise nature of his role in the offence has not been established."
The judge listed three aggravating factors in the case: that it was a terrorist murder; that the victim was a police officer carrying out his duties; and that Wootton was also convicted of attempting to obtain information useful to terrorists on another police officer.
Defence lawyers said that Wootton was still only 17 at the time of the killing.
However, the judge said the his age was of limited mitigation as the defendant was two months short of his 18th birthday and it was a serious violent offence.