Titanic: Privately-held photos of liner's launch shown for first time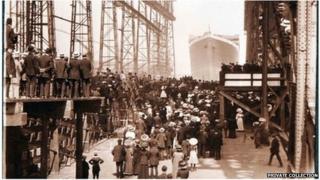 They are old sepia pictures that show the liner they called unsinkable taking to the water for the first time.
Shortly after the turn of the 20th Century as the Titanic edged out of her birthplace in Belfast and a crowd cheered and chased her down the slipway.
A fresh set of images of those moments have been uncovered and put on public display for the first time.
They capture the euphoria and optimism of that moment when the liner set out.
It was to be short-lived.
The man behind the camera lens who heard the shutter whirr and the crowds roar could not have dreamed what lay ahead.
In April 1912, Titanic hit an iceberg and sank in the icy waters of the Atlantic on her maiden voyage to America, claiming 1,512 lives.
Now an old photograph album is going on display at the Ulster Folk and Transport Museum in Cultra, County Down.
It contains 116 prints and belonged to John W Kempster who was a director at Harland & Wolff, the Belfast shipyard that built the famous liner.
There are 13 pictures from the launch of the Titanic from Belfast, including Lord Pirrie returning from his inspection of the hydraulic rams, and the famous liner going down the slipway and being chased by an excited crowd.
William Blair from the National Museums of Northern Ireland, said: "One of the striking things about this album is that the photographs exude an excitement in Belfast on that momentous day."
Steve Raffield bought the album two years ago. He said he was "thrilled and delighted" to share the images with other people.
The photographs are now on display at the Ulster Folk and Transport Museum.
"I hope as many people as possible will see and enjoy the photos - they really are remarkable!" Mr Raffield said.