'Slave workers' denied wages and food in Portadown, court hears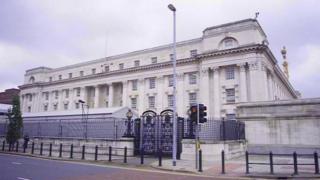 A man charged in an investigation into alleged slavery exercised control over 12 hungry and exhausted Romanian workers, a court has been told.
Samuil Covaci, of Charles Street, Portadown, County Armagh, faces human trafficking and forced labour charges.
He shared the three-bedroom house with the alleged victims, 12 of whom were "rescued" by police in August.
During a bail application, the High Court heard how the workers were denied their wages and given little food.
Cramped conditions
The 23-year-old defendant was one of two men arrested in August after four Romanian nationals turned up at a police station in Portadown, claiming to have been trafficked into Northern Ireland.
Officers then went to the house on Charles Street where they rescued 12 other Romanian nationals from alleged slavery.
The High Court heard that police initially thought Mr Covaci was one of the victims.
A total of 20 people were said to be living in cramped conditions in the semi-detached property, including married couples sharing a single bedroom.
Mattresses were pitched on floors, there was little or no food and sub-standard hygiene conditions, the judge was told.
'Hungry'
Prosecutors claimed the workers had been enticed to Northern Ireland with the promise of jobs with monthly wages of 500 euros, (£400), free food, accommodation and transport.
They were set to work in factories and other businesses, but were then denied the wages they had earned, it was claimed.
"They described how they were hungry, only being given basic food such as bread and cheap ham, and not enough of it," a prosecution lawyer told the court.
"Some became ill, losing weight, feeling exhausted and having sore stomachs."
Mr Covaci's co-accused is his 31-year-old brother-in-law Ioan Lacatus, from Hanover Street, Portadown.
A prosecutor decribed Mr Lacatus as the "brains" behind the alleged people trafficking operation.
'Debt'
Mr Covaci has been accused by police of acting as his "lieutenant" and as an "alpha male" controlling the alleged victims in the house.
The court heard the workers were given jobs at a sausage factory, an orchard, a car wash and a bakery, but their wages were paid into Mr Lacatus' bank account.
If the workers ever asked for money, they were given £5 to £10 which was then recorded as a debt, it was alleged.
The judge was told that during police interviews, Mr Covaci was said to have expressed surprise at being expected to buy food or toilet roll for the other Romanian nationals in the house they shared.
Gang-master
A defence barrister said Mr Covaci moved from Scotland to Northern Ireland in May to work in a meat processing factory and denied controlling the other residents in the Charles Street property.
"He says he was there in the same capacity as the other persons living in the house," the lawyer added.
"When he was initially taken into custody it was as a victim, not as a lieutenant or alpha-male," the barrister said.
Mr Covaci faces 12 charges each of people trafficking and forced labour and is also accused of acting as an unlicensed gang-master.
Adjourning the bail application, the judge requested more information on Mr Covaci's employment since arriving in Northern Ireland.