Bob Stoker: Ulster Unionist former lord mayor to join UKIP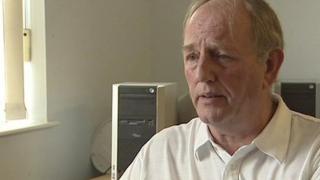 An Ulster Unionist who served as Lord Mayor of Belfast has joined UKIP.
Bob Stoker has been a member of Belfast City Council since 1995 and served as lord mayor in 1999.
He was welcomed to UKIP by the party's Northern Ireland leader David McNarry and its deputy leader Paul Nuttall.
Mr Stoker said there were good people in the Ulster Unionist Party but that its leadership had "lost touch with the grassroots".
He added that he had not a conversation with party leader Mike Nesbitt in over a year and that local parties had "forgotten about the people".
David McNarry said: "Bob is known for his honesty and integrity, for his wisdom, hard work and political experience.
"He will be a great addition to the UKIP team in Northern Ireland."
Paul Nuttall said Mr Stoker would be a "first rate recruit to the ranks of UKIP".