UUP leader Mike Nesbitt proposes electoral pact with DUP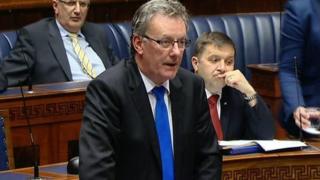 The Ulster Unionist leader Mike Nesbitt has said he is prepared to ask UUP supporters to vote DUP in North Belfast if the DUP would reciprocate and step aside in Fermanagh South Tyrone.
Mr Nesbitt told the News Letter he had put a proposal to the DUP.
Sinn Féin's Michelle Gildernew is the current MP in Fermanagh South Tyrone, while the DUP's Nigel Dodds is the MP for North Belfast.
The DUP said it would work to "maximise the unionist vote".
The Ulster Unionist leader said his party was committed to doing "what was right for unionism" in Northern Ireland and that was why he had made a proposal to the DUP.
"The DUP lost East Belfast in 2010 and we certainly don`t want to see the capital city of Northern Ireland without a unionist member of parliament at Westminster after May 2015," he said.
Reciprocal gesture
"It is important to have at least one unionist MP representing the city of Belfast.
"Although it's not good for us we have said to the DUP that we are prepared to support their candidate in North Belfast, but in return the DUP should reciprocate the gesture and assist us in winning back the most westerly constituency in the United Kingdom for unionism, namely, Fermanagh & South Tyrone.
"We believe the Ulster Unionist Party should be contesting that seat because of our excellent performance in the recent local government election results in Fermanagh & South Tyrone."
Mr Nesbitt made his comments ahead of the party's annual conference this weekend, but acknowledged that if another unionist party contested marginal Westminster seats it could undermine a deal between the UUP and DUP.
In April 2012, Mr Nesbitt ruled out forging any electoral pacts with the DUP.
He said, at the time, that he could not imagine any circumstance where it would be good for the UUP, for the pro-union people of Northern Ireland or good for politics to enter into such an arrangement.
DUP MP Gregory Campbell said discussions around electoral pacts were "best negotiated in private and then announced publicly rather than reversed".
'Close run'
"That's a better way of doing it," he said.
"Remember in Fermanagh South Tyrone there was actually a very, very close run thing within four votes, a single agreed unionist candidate almost won that seat, so let's not negotiate on the airwaves.
"Let's have some discussions and let's try and maximise votes and seats for unionism at the next election.
"Whether we rule it in or out, let's have discussions and let's see what materialises and then put it in the public domain."
Ms Gildernew was re-elected in Fermanagh South Tyrone in May 2010, by a margin of four votes.
She defeated unionist unity candidate Rodney Connor.
A DUP spokesman said: "We want to maximise the unionist vote and will work with unionist colleagues to ensure that's the case.
"We will explore the best way forward with other parties in the weeks ahead."