Ebola: Returning Irish aid workers monitored for virus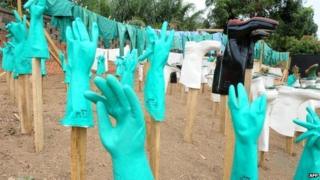 Aid workers returning to the Republic of Ireland from countries affected by Ebola are being monitored, the Irish Health Service Executive (HSE) has said.
Dr Darina Flanagan from the HSE's health protection surveillance centre was speaking at an Oireachtas committee meeting on Thursday.
She said those at high risk are being actively monitored every day.
Dr Flanagan added that "much depended" on their risk of exposure while abroad.
Health Minister Leo Varadkar told the health Committee that the country "must step-up" its Ebola preparations.
'Dry run'
He said that the risk of transmission of the disease remained very low, but added that "appropriate infection control" needed to be applied.
Mr Varadkar said the HSE has distributed personal protective equipment packs to GP practices and out-of-hours services, and that all hospitals would be required to perform "dry-run" practices.
The committee also questioned the Irish government's decision not introduce screening passengers for Ebola at airports.
Heathrow airport began screening for the virus among passengers flying into the UK from countries at risk on Tuesday.
The minister said that he felt it was "far more effective" to have exit screening in affected countries.
Chief Medical Officer Dr Tony Holohan also faced questions from members of the committee.
He said there had been 14 incidents that resulted in 23 tests for Ebola being carried out. He added that only one case could "possibly have been confirmed as Ebola", but it was not.
'Critical'
On Wednesday, the Irish Medical Organisation (IMO), which represents doctors, said it was worried that the Ebola threat was not being dealt with properly by health authorities.
The organisation met with the HSE on Wednesday to raise its concerns.
The IMO president, Prof Trevor Duffy, said it was "critical" that effective contingency plans were put in place as soon as possible.
The HSE said it had issued guidance to hospitals and GPs for the assessment of cases.
Northern Ireland's Health Minister Jim Wells has said that preventing the spread of the Ebola virus to Northern Ireland is "an absolute priority".
The disease has killed about 4,500 people so far, mostly in Liberia, Guinea and Sierra Leone.