Dog found at Belfast City Airport after two-month disappearance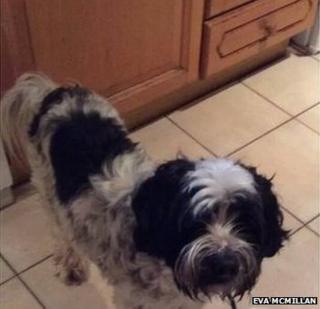 A dog that escaped from his owner while visiting Northern Ireland has been found at Belfast City Airport, after disappearing for more than two months.
In August, Cici, a Tibetan terrier, ran off from his owner in Craigantlet, County Down, while she was over from Wrexham, north Wales, visiting family.
Despite a series of desperate searches, the dog did not turn up and his owner had to go back to Wales heartbroken.
Thanks to the power of social media, Cici has now turned up safe and well.
Pictures of the runaway pup were circulated on a number of lost and found pets Facebook pages, in the hopes that someone would find him.
Homeward bound?
Last week, after nearly two months without any sightings of Cici, several staff at Stormont reported seeing a dog fitting Cici's description running around the grounds of Parliament Buildings.
It is not clear if he had heard there were several bones of contention there.
Dog wardens were alerted and Cici was eventually found on 14 October, but not at Stormont.
He was spotted a couple of miles away, in the car park at Belfast City Airport.
Cici's owner, Eva McMillan, said she was "absolutely delighted" that he had been found.
Speaking on Radio Ulster's Good Morning Ulster programme on Friday, she said: "It's just absolutely amazing, I was so delighted to find out that he was safe.
"He's still with my parents, but they will be over to visit me next week, so I'll get to see him then."