Court of Appeal rejects County Down abuser's sentence claim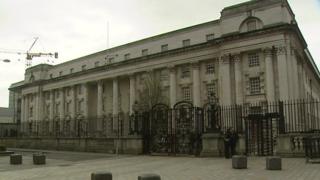 A woman who subjected some of her children to sexual abuse, neglect and cruelty, was not punished too severely, the Court of Appeal has ruled.
The woman was jailed for five years and eight months in April after admitting offences dating back to the late 1970s.
Her lawyers claimed the prison sentence was "manifestly excessive".
However, senior judges held that a 20% discount for pleading guilty was as generous as the 58-year-old could have hoped for.
Lord Justice Girvan said: "They were depraved acts involving separate children, separate occasions and a number of separate sexual partners."
Four of the woman's children suffered at the hands of both parents, two uncles and two other men at various addresses in south Down.
In a family setting described as "dysfunctional and hopelessly chaotic", the woman, referred to as W to protect her victims' identities, made some of the victims watch as she had intercourse with men.
The children were also forced to live in filthy conditions.
There were holes in the walls, broken windows, no sheets or pillows on beds and mattresses ripped, the court heard.
One child who suffered from bedwetting was often left to lie in her own urine.
The children were also subjected to ridicule by both parents.
Wilful neglect
W's legal team argued, however, that she should have received a shorter sentence for the 12 counts of wilful neglect of her children, five counts of wilful assault on them and six of gross indecency.
It was set out how others involved in the abuse, including a former RUC man, were given lesser prison terms.
The children's father was handed four years after admitting a series of wilful neglect and cruelty by wilful assault charges.
An uncle was sentenced to two years and nine months in jail for three counts of gross indecency and one count of indecent assault.
Another uncle who pleaded guilty to two counts of gross indecency, received a six months suspended prison sentence.
'Driving force'
However, a prosecuting lawyer said that W had been the driving force behind what was inflicted on her children.
He argued that the cruelty, gross indecency and neglect which she admitted to was at an extreme level.
The court heard how one child was beaten with a poker, pushed into a mirror and forced to engage sexually with her.
Daughters were told to watch sexual acts and learn from them, the court heard.
It was also stressed that the father had faced no sexual offence charges.
Delivering reasons for the decision to dismiss the challenge to the jail term, the appeal judges rejected all grounds of challenge.
They cited a pre-sentence report in which W showed no remorse or distress that her children felt abused by her, other family members or associates.
She claimed that as adults her children had physically assaulted her, stole her benefits money and made up the allegations for financial gain.
Lord Justice Girvan, sitting with Lord Justice Coghlin, said the sentencing judge's approach could not be faulted.
Under the current regime a considerably longer overall sentence could have been imposed, he pointed out.