UUP leader Mike Nesbitt changes mind over ministry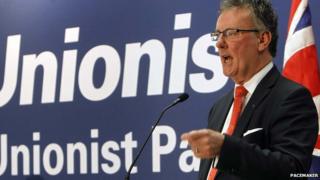 Ulster Unionist leader Mike Nesbitt has said he will not become a minister in the Northern Ireland Executive before the next assembly election.
Mr Nesbitt said when he was elected as party leader two years ago that he planned to take a turn running a ministry, but he has changed his mind.
The party's sole executive position is held by Regional Development Minister Danny Kennedy.
Mr Nesbitt was speaking ahead of the UUP conference in Belfast on Saturday.
"First of all, Danny Kennedy is doing a first-class job, so there is no need for anybody else to go into the regional development brief," he told BBC Radio Ulster's Inside Politics.
"Secondly, if I did do it, it would be purely selfish - it would just be for me - because there is an awful lot to do in terms of the party development and if I went into the ministry I wouldn't have the time to do that."