Marion Millican killing: Fred McClenaghan will not testify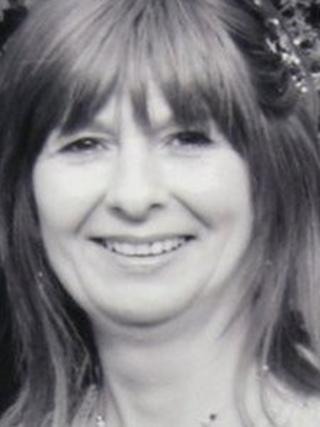 A man accused of murdering his former lover in a County Londonderry laundrette will not be giving evidence at his trial.
Fred McClenaghan, 52, of Broad Street, Magherafelt, denies the murder of mother of four Marion Millican in Portstewart on 11 March 2011.
He has claimed he accidentally shot her while intending to kill himself.
A defence barrister said: "It is not intended to call the accused to give evidence in this case".
He said his client was aware that the jury of six men and five women may draw whatever inferences they feel proper at his refusal to go into the witness box, or to answer any questions.
The lawyer told the court that from Wednesday, the defence proposed calling a number of witnesses whose evidence "is quite specialist in nature" and will include psychiatrists as well as psychologists.
He also said that while the prosecution case had ended, the Crown also intended to call an expert witness.
Police confession
Earlier, before the close of the prosecution case, the court heard of Mr McClenaghan's confession to police to the unlawful killing.
It came during the 11th of 14 interviews, over three days during which he mostly remained silent, on the advice of his solicitor.
In a prepared statement, read into the record by a solicitor, Mr McClenaghan claimed he planned to commit suicide in front of Mrs Millican and that shooting her had been an accident.
"It was my intention to kill myself on March 11 and Marion would witness my suicide," the statement said.
"I did not intend to kill Marion. I did not intend to harm Marion. Marion's death was an accident. I am sorry".
The court heard that Mr McClenaghan maintained his silence, and did not elaborate on the statement from his solicitor. He also remained silent when asked about remarks he made after the shooting.
In a comment to the sister of a former partner he allegedly admitted that he had "shot a girl in Portstewart", and following his arrest, in an unsolicited remark to a police officer, said: "It should have been me lying there."
The court also heard evidence on Tuesday about the post mortem findings of Dr Peter Ingram, assistant state pathologist for Northern Ireland.
He found that Mrs Millican was "probably no more than a metre or so, and possibly as close as about 30 to 40cms" from the shotgun when she was shot once in the centre of her chest.
Dr Ingram revealed that the effect of the shotgun blast, which travelled in a near horizontal direction from her front to her back would have caused Ms Millican's "rapid death."