Bessbrook toddler: Police get extra time to question assault suspect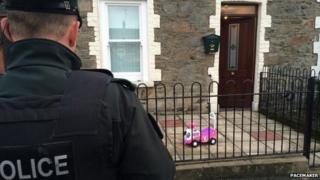 Police investigating an alleged assault that left a two-year-old girl critically injured have been granted a further 24 hours to question a man.
The man, who is in his 20s, was arrested in connection with the incident in Bessbrook, County Armagh.
Police went to a house in Charlemont Square East on Sunday night after an altercation involving several people.
The toddler was taken from the house after apparently suffering serious head injuries. She remains critically ill.
It is understood the man being questioned is not the child's father, but was in a relationship with the mother.
They had only met recently, apparently via the internet and neighbours said he had moved into the house three days ago.