Prison watchdog: Improvement needed in prisoner safety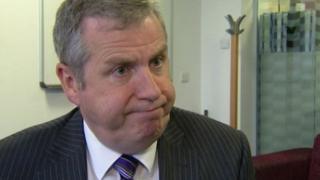 More needs to be done to improve the safety of prisoners in Northern Ireland, a report by Criminal Justice Inspection has found.
It has called for an improvement in how issues such as self-harm, suicide, bullying and drug misuse are dealt with in local prisons.
The report includes a number of recommendations which are to be put in place within the next nine months.
Inspectors have recommended that existing policies should be reviewed.
In 2011, 67% of all prisoners were on prescribed medication and 90% of prisoners had a diagnosable mental health problem, substance misuse problem or both, with 27% having some other form of chronic disease.
Figures for 2010 suggested that the prevalence of personality disorders among prisoners was estimated to be between 60-80%.
Chief Inspector of Criminal Justice Brendan McGuigan said serving time could be relatively straightforward for some offenders.
"But for those prisoners with mental health issues, personality disorders, drug or alcohol addiction or learning difficulties, it can be a time of great vulnerability," he said.
'Protect and support'
"The safety of prisoners is not just about preventing deaths in custody.
"It's about ensuring appropriate care and support is provided to protect and support those who are at risk."
He said that given the concentration of need found in Northern Ireland's prisons, inspectors recommended a review of existing policies aimed at addressing these issues, to take account of the inspection findings.
"We believe this work should be undertaken as a matter of urgency and completed by July 2015, as the quantity and availability of drugs within the prisons is concerning and has significant links to bullying and safer custody," Mr McGuigan said.
Justice Minister David Ford said the report acknowledged the progress made in "supporting prisoners and delivering appropriate levels of care, safety and health provision".
"The report sets out the scale of the challenge that prison and healthcare staff face," he said.
"It found that 5,000 prisoners use healthcare each year and 1,000 of them will have a personality disorder.
"It also said 67% are on prescribed medication. Possibly their starkest finding is that 90% of prisoners have a diagnosable mental health problem, substance misuse problem or both.
"This is an opportunity for everyone involved to further improve the safety of prisoners in our custody."