Fermanagh insurance company LIMA creating 49 new jobs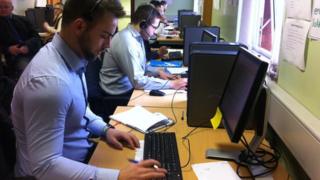 An insurance company in County Fermanagh is creating nearly 50 jobs at a new call centre.
Lakeland Trading Solutions, which trades as LIMA, sells home and contents insurance in the UK.
The 49 positions are being created over the next three years and will be based at a call centre in Killyhevlin industrial estate, Enniskillen.
The firm has received £343,000 in support from Invest NI.
One of the company's directors, Matthew Martin, said he was "convinced" that Enniskillen was the best place to develop the business.
He said: "After considering other UK locations, we were convinced that Enniskillen offered us the best business environment in terms of cost effectiveness, along with the quality and availability of talent."
The company said it is looking to fill many of the posts with people from Enniskillen who are unemployed.
Enterprise Minister Arlene Foster said: "These jobs are for people who perhaps have been unemployed, who maybe have worked in the insurance industry before and are looking for a new challenge.
"It really is good news for people in Enniskillen that this announcement is being made."