Irish water charges: Gaeltacht residents fear for future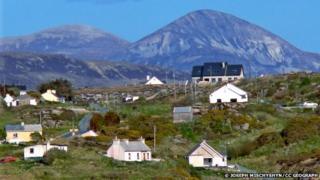 The introduction of water charges could spell the end of a decades-old method of learning the Irish language in a family setting, it has been claimed.
Traditionally, teenage students visit the Gaeltacht - areas where Irish is the main spoken language - and stay in the homes of Irish-speaking families.
However, some Gaeltacht residents have said they fear they will no longer be able to provide student accommodation.
They said they may not be able to afford water bills run up by students.
The water charges can run into hundreds of euros and Gaeltacht landlords have claimed that no provision has been made to take their circumstances into account.
Water charges were introduced for households across the Republic of Ireland on 1 October, meaning that millions of residents have to pay for their domestic supply for the first time.
The universal charging scheme was a key part of the government's plan to pay back the international financial bailout the state received in November 2010.
The government has set up a new company called Irish Water, which is currently in the process of installing water meters at homes throughout the state.
However, the austerity measure has proved highly controversial even before the bills have begun to drop through letterboxes, with thousands taking to the streets to protest.
Gaeltacht residents are among those opposed to the introduction of water bills, and a series of meetings has been held to discuss how to oppose the charging scheme.
The Gaeltacht is spread across seven separate areas of the Republic of Ireland, covering parts of counties Donegal, Mayo, Galway, Kerry, Cork, Meath and Waterford.
The largest Gaeltacht area is in County Donegal, where the Mac Eachmharcaigh family have been opening their homes to Irish language students for decades.
Niall Mac Eachmharcaigh grew up in the Irish-speaking village of Ranafast (Rann na Feirste), where his parents provided accommodation to people who wanted to immerse themselves in the language.
About 15 years ago, Mr Mac Eachmharcaigh converted an old property into an eight-bedroom family home in the village, purpose-built for taking in students during the summer.
The Mac Eachmharcaighs are one of about 25 Gaeltacht landlord families in Ranafast. They are paid about 22 euros (£17) per student per night.
For that, Mr Mac Eachmharcaigh said they have to cook and clean for the students, providing all their daily meals and doing their laundry.
As many of the students are young teenagers, a landlord has to be available at their home 24 hours a day, in case of sickness or other emergencies.
As they often have to play a quasi-parental role, Gaeltacht landlords are referred to in Irish as bean an tí (woman of the house) or fear an tí (man of the house).
Mr Mac Eachmharcaigh said it is a 24-hour responsibility, and he feels he is already working for "pennies", when the hourly pay rate is taken into account.
The money they receive is not taxed, but helps to cover food and utility bills.
Mr Mac Eachmharcaigh said the student guests are given the "run of the house" and his electricity bill increases significantly over the summer months.
With up to 12 students at a time staying in his family home, he is very concerned about the cost of guests using showers and washing machines.
He said households were given a water allowance per child, but to qualify the child has to be resident in the property for more than three months, whereas Gaeltacht guests only stay for about three weeks at a time.
Micheál Cholm Mac Giolla Easbuig, an independent representative on Donegal County Council, said several Gaeltacht landlords were considering quitting because of the water charges.
He said it would have a very damaging impact on the numbers of students visiting the area, and added that he feared the Gaeltacht as it now exists would be a thing of the past "within 20 years".
As some households will receive their first water bills before their meter is installed, their household charge will be assessed, based on the number of people living in the property.
In a statement to the BBC, Irish Water said that households that take in Irish language student "will pay only for the permanent occupants in the house, i.e. their families," if they are on the initial assessed rate.
However, the company added: "If such a home is metered it would be up to the owner to decide how they wish to claim this cost as any other business expense such as electricity, heating costs etc.
"In relation to any changes to the pricing structure, this would be a matter for the Commission for Energy Regulation."
The daily rate paid to Gaeltacht landlords is partly funded by Irish colleges, through student fees, with the rest subsidised by government funding.
An official from the Irish Department of Arts, Heritage and the Gaeltacht has told the BBC that subsidies to landlords are regularly reviewed and that they expect water charges to be part of future reviews.