Marion Millican killing: Fred McClenaghan 'had major depressive disorder'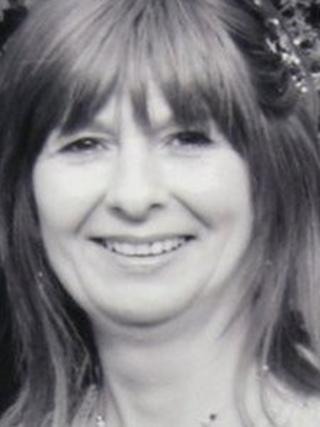 A psychiatrist has told a court a man accused of murdering his former partner was suffering from a "major depressive disorder'' at the time of the killing.
Prof Tom Fahy said the condition would have impaired Fred McClenaghan's "mental responsibilities".
Mr McClenaghan, 52, of Broad Street, Magherafelt, County Londonderry, denies murdering Marion Millican.
He has claimed he shot her accidentally during a struggle while intending to kill himself.
'Shotgun concealed'
A plea of guilty to manslaughter, made on the opening day of his trial, was rejected by the prosecution who said it was "murder, pure and simple''.
Prof Fahy told the jury that he examined Mr McClenaghan on 11 April this year in Maghaberry prison over a four-hour period to assess his mental health.
He said that during the sessions, he asked Mr McClenaghan to recount the events of the day of the shooting incident.
"He told me that he got up that morning and went into the bathroom and looked at himself in the mirror and said he didn't want to go on in that state and decided he was going to end it," he said.
"He then stated that he collected the shotgun from a derelict farmhouse where he had concealed it. He said he then went to a friend's house and collected a number of dust sheets and threw them into the car.''
Mr McClenaghan told the professor that he had a written to a note to Mrs Millican outlining his feelings for her and his plans to take his own life.
Asked by defence counsel what he thought about the note, Prof Fahy replied: "It suggested to me, on his part, a considerable amount of suicidal ideation and intention.''
The witnesss said that Mr McClenaghan told him he then got into his car.
"He stated that he drove to Portstewart and during the journey he played the hymn Abide With Me. I asked him why that hymn and he replied: 'It was giving me peace of mind. To stop the thoughts'.''
The jury of six men and five women at Antrim Crown Court, sitting in Belfast, heard that Mr McClenaghan told the professor that he went into the launderette where Mrs Millican worked and was met by Mrs Millican and her work colleague Pamela Henry.
"He said to me that Marion invited me into the back to talk. He said the shotgun was discharged into the ground and Pamela Henry left," he said.
"Mr McClenaghan claimed that Mrs Millican grabbed both barrels of the shotgun and that a struggle started and he told her to let go. He said he pulled the weapon out of her hands and the gun went off.''
Threat
The professor said that he had examined all clinical and professional notes in Mr McClenaghan's case relating to his depression, his medication, his alleged childhood sexual abuse at the hands of a police officer, his binge drinking, his suicidal attempts and thoughts.
He said: "In my opinion all the red flags were waving in the air at this time.
"In my opinion that at the time he was suffering from a major depressive disorder which had been severe in its intensity. This would have substantially impaired his mental responsibility for these actions.''
During cross examination Prof Fahy said Mr McClenaghan had told him he had got the shotgun eight to nine months earlier for his own personal protection as he was under threat from paramilitaries.
The professor accepted that it was strange that Mr McClenaghan had concealed the gun at a derelict farmhouse and had not kept it at home or on his person if he was under threat from paramilitaries.
Asked why Mr McClenaghan had not killed himself as planned, the witness said he told him that he had no cartridges left after both had been discharged in the launderette.
Prosecution counsel asked: "The fact is that he took the shotgun and killed his ex-partner and was basically saying if he couldn't have her nobody else would. Isn't that a reasonable scenario professor?''
The psychiatrist replied: "It is a reasonable scenario.''
The trial, which continues, is at hearing.