Drugs shipment accused get High Court bail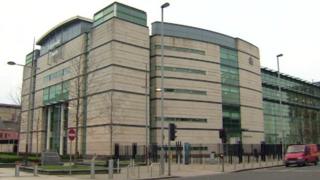 Two men who allegedly acted as couriers for a gang trying to import millions of pounds worth of drugs into Northern Ireland have received High Court bail.
Michael Rainey, 48, and Scott Sotheron, 39, face charges connected to a single seizure of £600,000 of herbal cannabis in County Antrim.
But their co-accused Edward Cameron, 53, was refused bail amid claims he acted as an organiser in the operation.
All three men were arrested in Northern Ireland and Manchester last week.
Each of them is charged with conspiracy to supply and being involved in the supply of Class B drugs.
The consignment of cannabis recovered in the Seven Mile Straight area in September 2013 forms part of a year-long police investigation.
A crime gang is allegedly behind wider attempts to ship major amounts of drugs across the Irish Sea.
In total, police have recovered cannabis and cocaine valued at more than £2.1m in six interventions at different locations.
Telephone, surveillance and CCTV evidence has been compiled against the accused, a judge was told.
The cannabis haul was on a lorry allegedly brought across on a ferry from Scotland by Mr Rainey, of Mark Street in Newtownards, County Down.
It was then handed over to the occupants of a car being driven by Mr Cameron, from Glenbank Drive in Belfast, police claimed.
From there, the batch was eventually moved to an address at Seven Mile Straight.
Mr Sotheron, of Walmersley Road in Bury, Lancashire, had allegedly met up with Mr Rainey in the Scottish borders area two days earlier.
'Bottom of the operation'
The Englishman's DNA has been found on a hold-all linked to the seizure, according to police.
Counsel for Mr Rainey said he had made admissions during interviews and claimed to have acted under duress.
He told police a man approached him in the ferry toilets, handed him a mobile phone and threatened him into making a collection in Carlisle, it was claimed.
Mr Sotheron's barrister argued that his alleged role was at the bottom of the operation.
He is currently undergoing treatment for an addiction to morphine that developed after a motorbike accident, the court heard.
A lawyer representing Mr Cameron said there had been no suggestion of any further offending in the 13 months since the seizure was made.
The accused's sister was also willing to put up a £10,000 cash surety to secure his release.
But setting out the alleged different roles between the three men, prosecution counsel claimed: "Rainey and Sotheron were couriers, Cameron would have been organising the operation from the Northern Irish side."
Ruling on the three bail applications, the judge escribed the drugs importation as the work of a well-organised gang.
"It appears that it's part of a network or operation which would have been ongoing, on many occasions, in distributing drugs throughout the UK and more importantly in bringing them into Northern Ireland," he said.