Stephen Carroll: Dissident republicans to go before Supreme Court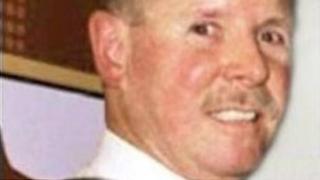 Two dissident republicans jailed for the murder of Constable Stephen Carroll are to go before the UK's highest court in a bid to clear their names.
Senior judges in Belfast certified a legal question for lawyers representing Brendan McConville and John Paul Wootton to take to the Supreme Court on Friday.
Both men are currently serving life sentences for the death.
Constable Carroll was the first member of the PSNI to be killed.
He was shot at Lismore Manor, Craigavon, County Armagh, in March 2009.
McConville, 43, of Glenholme Avenue in the town, and 23-year-old Wootton, from Lurgan, were also convicted of possession of an AK47 assault rifle and ammunition with intent to endanger life.
Wootton was further found guilty of attempting to collect information likely to be of use to terrorists.
Last week, Wootton's minimum jail term was increased from 14 to 18 years after the Court of Appeal ruled it was unduly lenient.
The aggravating factors of his still undefined role in the terrorist killing were cited.
McConville is to serve at least 25 years behind bars for his part in the murder.
'DNA'
A circumstantial case against the pair at the non-jury trial involved DNA and other evidence.
Wootton's car was held to have been near the scene of the attack and driven off within minutes of the killing. Gun residue was found on a coat, linked to McConville, that was later recovered from the vehicle.
In May 2014, both men failed in attempts to have their murder convictions overturned.
But their lawyers returned to the Court of Appeal on Friday seeking permission to take their case to the Supreme Court.
A panel chaired by Lord Chief Justice Sir Declan Morgan refused leave.
However, the judges agreed to certify a question that Sir Declan said would "get them through the door into the Supreme Court".
Wootton's solicitor later said: "With my client maintaining his innocence he welcomes the opportunity to continue his fight to clear his name before the Supreme Court."