Marion Millican killing: Fred McClenaghan depressive disorder 'not severe'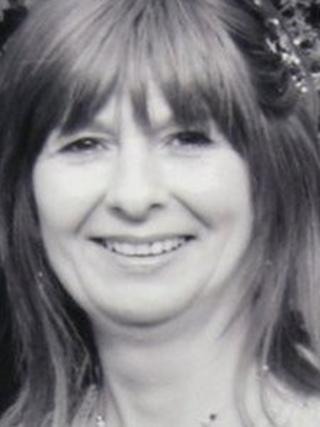 A psychiatrist has told a court although a man accused of murdering his former lover was suffering depression, this was "not sufficient to diminish" his responsibility for the killing.
Mr McClenaghan, 52, of Broad Street, Magherafelt, County Londonderry, denies murdering Marion Millican in a laundrette in Portstewart in 2011.
He has claimed he shot her accidentally during a struggle while intending to kill himself.
The prosecution have rejected the plea.
They maintain what happened was "murder, pure and simple''.
In his evidence, prosecution psychiatrist Dr Richard Bunn said the accused was suffering from a depressive disorder but it was not severe.
Defence forensic psychiatrist Prof Tom Fahy, in his evidence, told Antrim Crown Court, sitting in Belfast, that Mr McClenaghan was suffering from a severe depressive disorder, legally absolving him of responsibility for the shooting.
'Prison'
However, Dr Bunn, in his evidence, agreed that Mr McClenaghan was suffering from a depressive disorder, but it was not severe, but moderate. He said the conclusion of it being severe was "not borne out" given his treatment in, and his reaction to, prison.
There were no further attempts by Mr McClenaghan to self-harm, he said, and it was also noted that his mood improved after a couple of weeks, "which is not typical for such patients".
Dr Bunn said in his clinical experience such patients respond poorly, unable to function with the stresses of daily life, especially when operating within "the toxic environment of prison".
"In my opinion this is not consistent with the usual clinical presentation and treatment of a severely depressed patient," he said.
He added that such patients required varying treatments of six to eight months, not one to two weeks.
He also claimed that in his own clinical experience, some patients needed treatment for between one and two years.
'Mental health'
The psychiatrist said he had also noted that when talking to doctors about what happened, Mr McClenaghan had been calm, not stressed or agitated, which he claimed was not "the typical remorseful response following the accidental death of a lover".
Later, under cross-examination from a defence lawyer, Dr Bunn agreed that the general accepted period of treatment from six to eight months by the mental health world, was based on "the average" and that time period "could be less or it could be more".
The defence lawyer said while there was an average time for treatment some patients could show signs of recovery within a shorter time span of two to three months, while in some cases it could take longer.
The lawyer also put it to the psychiatrist that Mr McClenaghan had first shown mental health issues in March 2010 and up to March 2011, just days before the tragedy, Mr McClenaghan was being seen or counselled by a number of organisations.
This, he said, was "relevant, significant and concerning", and that Dr Bunn's later assessment of him was shared by others, "that it (his condition) was not mild, it was more than mild - it certainly wasn't trivial".