Irish polls suggest little change in Sinn Féin support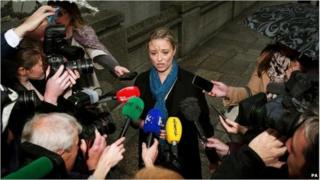 The first opinion polls to be published in the Republic of Ireland since allegations were made by Belfast woman Maíria Cahill suggest the claims made little impact on Sinn Féin's support.
The Red C/Sunday Business Post poll has the party down three percentage points to 20%. That is within the poll's margin of error (+/- 3%).
The same poll suggests support for the main governing party, Fine Gael, is down by two percentage points.
A second poll, conducted by Behaviours and Attitudes for the Sunday Times, has Sinn Féin support unchanged at 19%.
Ms Cahill says she was raped as a teenager by a suspected IRA member and later interrogated by the IRA who covered up what happened.
Earlier this month she waived her right to anonymity to speak to BBC Northern Ireland's Spotlight programme.
She said that in 1997, when she was 16, she was subjected to a 12-month cycle of sexual abuse, including rape, by a man who was believed to be a member of the IRA.
Ms Cahill described how the IRA questioned her repeatedly, often several nights a week, for months about the abuse allegations, before summoning her to a meeting with her alleged abuser in early 2000.
She later went to the police and several people were charged but the case was dropped after Ms Cahill withdrew her evidence.
Sinn Féin President Gerry Adams has apologised to sex abuse victims he said were "let down" by the IRA during the Troubles.
Mr Adams, who is a member of the Irish parliament, said the IRA had sought to deal with some cases of abuse when asked to do so by families and victims.
He has faced strong criticism from other Irish political parties and the Dublin media.