Public Records Office puts 1930s seance photographs on display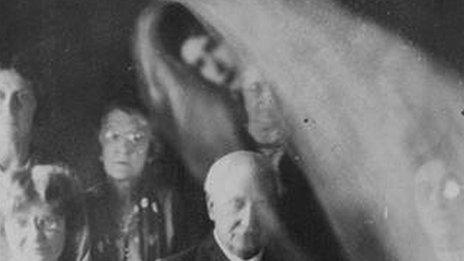 The pictures were among the records of Lieutenant Colonel E J Gordon Tucker.
Alan Robertson, PRONI, said: "These photographs show 'spiritualist manifestations' surrounding people who were involved in a séance.
"They appear as 'faces' surrounded by white mist known as 'ectoplasm'.
"This was considered to be the spirit taking form in the material world."
Mr Robertson said the pictures were reminders of the period after World War I when many personal tragedies were played out.
"Many people had lost family members in World War I without having the opportunity to say goodbye," he said.
"During the 1920-30s, some sought comfort by trying to contact their missing loved ones through their belief in spiritualism."
Mr Robertson said it is thought the photographs were created either by double exposure of the plates or by creating a "spirit-like" mannequin.
The pictures are on display at the PRONI offices in the Titanic Quarter, Belfast.