Northern Ireland budget: Q&A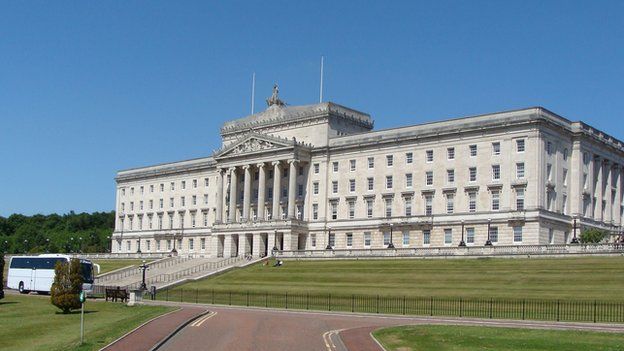 Finance Minister Simon Hamilton has proposed cuts of more than £700m to Stormont departments in a budget plan circulated to executive ministers.
The budget will take Stormont up until the next assembly election in 2016.
Significant cuts are expected to be required from many of the assembly's departments.
We look at how this budget has come about, what cuts are expected and how they are likely to affect public services.
------------------------------------------------------
Why is this budget needed?
In 2010, Stormont agreed a four-year budget to run from 2011 to 2015. It now needs to agree a one-year budget for 2015/2016 to run up to the next election.
Ministers must now come up with a draft budget, or "credible plan", by the end of the week as part of its agreement of a £100m loan from the Treasury.
Where does Northern Ireland's budget come from?
93% of Northern Ireland's budget is a block grant from Westminster. The rest is made up of rates and borrowing.
The block grant is given to the executive annually and is allocated after the Treasury works out how much Northern Ireland should get from the UK's overall income.
The sum is worked out using the Barnett formula, and it is also used to determine budget allocations to Scotland and Wales.
Named after the former chief secretary to the Treasury, Lord Barnett, the mathematical formula was originally intended to be based upon relative population rather than on need.
It has resulted in higher spending per capita in the devolved nations than in England.
The block grant for day-to-day spending in Northern Ireland is about £10bn.
What cuts are expected to the budget?
The starting point is a cut of 1.6% to the resource budget, which governs day-to-day spending. This represents a cut of £160m.
On top of that, the budget will also have to factor in £100m that must be paid back to the Treasury, £114m in welfare fines and £272m for ongoing "inescapable pressures".
Northern Ireland is being penalised by the Treasury for not endorsing welfare reforms passed by Westminster in February 2013.
Sinn Féin has led the opposition to the reforms.
The Treasury's fines reflect how much the benefits budget in Northern Ireland should have fallen by if welfare reforms had been implemented.
As this has not happened, the Treasury is instead taking the equivalent sum from the budget. This amounts to £114m of fines in next year's budget.
What do these cuts mean for each Stormont department?
There is consensus that the health department's budget should be ring-fenced.
If health is fully protected, then all other departments will face a cut of 14%.
If education is also fully protected, that cut will be closer to 21%.
However, Mr Hamilton's draft budget plan has proposed that the education department is not spared the impact of cost-cutting.
All these cuts come after four years of budget restraint, meaning that savings are harder to come by.
How will the cuts affect public services?
Peter Robinson has said a redundancy scheme will be opened up for public services, which will create savings of £160m per year.
The trade union Nipsa has said this equates to about 6,000 job losses.
Mr Robinson said the scheme will be paid for through the Reinvestment and Reform Initiative borrowing mechanism.
All departments also appear to be planning for cuts of 15%.
As yet, there is not much detail on how that will affect public services.
However, it has been reported that if the cut was applied to the Department of Employment and Learning, it would see the University of Ulster reduce its student intake by 3,000 places and close less popular courses.
How long before these cuts are rolled out?
Ministers must come up with a "credible plan" for the end of the week. After that, there is supposed to be a 12 week public consultation. Realistically, that will now be a maximum of eight weeks.
The budget would then be debated at Stormont early next year and have to be passed before the end of March.