Council reviews BBC programme True North: I Love Larne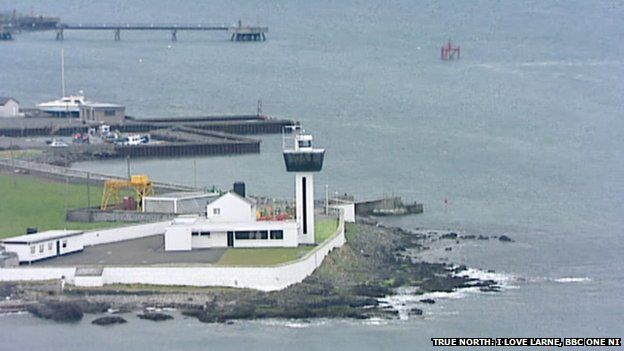 Larne Borough Council has held a special meeting to discuss a BBC television programme about the town, broadcast last week.
The town's mayor Martin Wilson said they met to review the issues surrounding the public's response to the programme on Monday.
Councillors "expressed their deep hurt" at the negative impact the programme had on the community.
The BBC said I Love Larne intended to give an affectionate glimpse of life.
Mr Martin Wilson said: "The council members recognise the unprecedented focus across the media and are committed to harnessing a benefit for Larne and its citizens going forward.
"The council acknowledges that the programme has united young and old and has demonstrated an intensity of community pride in Larne, both civic and business.
"This pride in the borough underpins the determination and confidence in the council in its entirety in taking up the challenge to promote a true picture of Larne," he added.
In a statement released after the programme was broadcast last week, the BBC said "Our programme was intended to look at different aspects of life in Larne through the eyes of people from, or connected with, the town.
"It focussed on the views and experiences of individuals and was set within the context of recent difficulties and people's hopes for the future.
"The programme's story-telling was character-led and impressionistic. And it very much reflected the style of the film-maker involved.
"We have been concerned about the negative reaction to this programme from viewers and community representatives in Larne. We want to understand people's concerns and to reassure them that our intention was to provide an affectionate glimpse of life within the Borough.
"No programme or series can ever tell the full story of a community. Other stories, voices and views are always available and waiting to be heard. Our challenge and opportunity is to bring these different aspects of Larne's diversity to the BBC's airwaves.
"Audience feedback and the civic pride that people have been expressing over the last few days will make this job much easier and we very much appreciate the time that people have taken to get in touch with us."