Belfast bonfires: Fewer groups breach conditions such as flag burning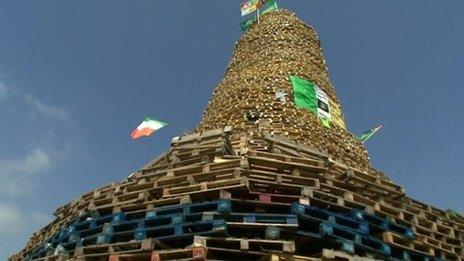 Fewer groups granted money for holding bonfires in Belfast this year allegedly breached conditions including the burning of flags, the BBC has learned.
Nine out of 46 groups awarded money by Belfast City Council for holding bonfires in 2014 were found to have burnt "tricolours or nationalist paraphernalia".
All of these groups were in loyalist or unionist areas.
This is down from 17 out of 37 groups in loyalist areas given grants in 2013.
A report by Belfast City Council's Good Relations Partnership, obtained by Good Morning Ulster, recommended that seven of the nine groups have 30% of their funding withheld.
It added that two groups should be paid in full due to their efforts to remove flags and emblems from bonfires.
This decision must be ratified by Belfast City Council.
The council distributed £141,000 as part of their bonfire management programme in 2014.
The programme is designed to tackle problems around bonfires such as the burning of toxic materials or flags and symbols.
Groups are allowed to apply for a grant of up to £2,000.
In the past year, 41 groups in unionist or loyalist communities and five groups in republican communities received money from the programme.
The groups agreed to a number of conditions, including to not burn tyres on bonfires, not to display "paramilitary trappings and paramilitary flags on or in the vicinity of the bonfire site" and not to burn "any flag, emblem, posters, effigies or any other symbols".
One organisation found to have breached these conditions in the past year was Graymount Community Group in north Belfast.
The council's report said they were found to have had Irish tricolours, Celtic football jerseys and election posters of Sinn Féin, SDLP and the Alliance Party burnt on their bonfire.
Graymount said that a group of adults with no connection to the organisation had placed the items and would not remove them.
In the other breaches, many groups said that they could not remove offensive items due to concerns over personal safety.