Gerry Anderson: the Number One fan with the tapes to prove it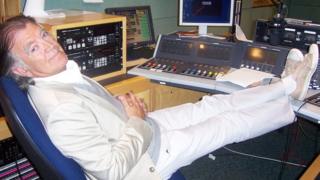 It began as a joke... but the Gerry Anderson Appreciation Society (GAAS) forged friendships that lasted down the years.
The fan club that wasn't really, began with Glengormley woman Eileen Roulston who was a true fan of Anderson, the radio and television broadcaster who died in August after a long illness.
Anderson's name meant humour, music and a wry look at life.
His unique style made him a household name in Northern Ireland.
He was the man who coined the term "stroke city" - a neat way of circumventing the dilemma over whether you called the city on the banks of the River Foyle, Derry or Londonderry.
For Eileen Roulston, Gerry's unique brand of humour was a true tonic.
"I wrote my first fan letter ever in 1986 and it was to him," she said with a smile.
"I had never written to any broadcaster before. And, for the laugh, I put 'Glengormley Branch, Gerry Anderson Appreciation Society,' at the top.
"When he read that out, people believed he had a fan club and they actually wanted to join."
In her first fan letter, Eileen told him she enjoyed the Anderson brand of humour but there was just one problem, he did not play enough Cliff Richard.
"This was in the old days of vinyl. So he'd read my letters and put on a Cliff Richard song but after a few seconds, he'd lift the needle and that would be the end of it - he'd say something about 'That's enough of that'," she laughed.
In the end, Eileen bought Cliff Richard singles and sent them to Gerry Anderson to play.
It was an affectionate friendship with Anderson nicknaming his fan, Eileen Rooster, after he made a slip up and mispronounced her name on air.
It was a shared love of the Anderson wit that cemented a friendship between Eileen Roulston, Laura Moore and, in total, about a dozen big Anderson fans.
"Laura went on air and chatted to him, telling funny stories," she said.
"We were always comparing notes and ringing each other."
Eileen said Anderson was always very kind to his fans.
"I met Gerry many times," she said.
"When he was doing the television show, Anderson On the Box, we always got tickets. If there was a problem, Gerry made sure we got them.
"We were always invited to the Green Room afterwards to meet the guests which was lovely."
And she has special memories of one member of the GAAS who became very ill.
At this stage, Gerry Anderson was working in England during the week and returned to do his television show in Northern Ireland at the weekend.
"He had a compassionate side too.
"He came off the plane and went straight to visit her in the City Hospital. He went to see her two or three times before she passed away, he was very caring."
And then there was the briefcase story.
"When Gerry went to Radio 4, we were devastated but delighted for him," she said.
The GAAS clubbed together and bought him a briefcase.
The joke involved a story that Gerry Anderson told on air a few years earlier.
He had said that a fellow was leaving his work some years ago and they had all put the money together to buy him a briefcase.
They presented it to him and waved goodbye.
"Six months later, he was back working with us," Gerry told his listeners with a wry laugh.
Eileen Roulston and her fellow fans handed over the leaving gift in the hope of something similar.
"We got it in the hope it would bring him back to us," she said.
He did return and continued to delight listeners with his banter with fellow presenter Seán Coyle who has a gift for mimicry.
"He and Sean were brilliant together.
"They took the show to America and Seán always did the singer, Daniel O'Donnell.
"When they were in California so was the real Daniel and he came on the show. He chatted to Gerry and then Seán came through talking as Daniel - so it was Daniel chatting to Daniel!"
For Eileen, Anderson just made her laugh. He still does, as she has tapes dating back to his shows in the 1980s and 1990s.
"If you were down at all in the morning, you turned on the radio and he was so funny that it lifted you," he said.
"I cannot believe he is gone. He was so full of life, you just thought he was invincible."
'Remembering Gerry' - a tribute concert for Gerry Anderson took place at BBC Northern Ireland's Blackstaff studios in Belfast on what would have been the broadcaster's 70th birthday.