East Belfast attacks: PFNI says 'gang culture' must end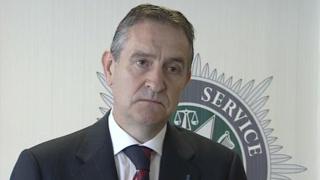 East Belfast's "gang culture" must be broken up, the Police Federation for Northern Ireland has said after a third night of disturbances in the area.
Three police officers and a 15-year-old boy were among those injured during three consecutive nights of sporadic trouble near a sectarian interface.
The Police Federation for Northern Ireland (PFNI) chairman, Terry Spence, described it as "mindless violence".
He said gangs were "bringing nothing but misery" to the areas affected.
"Thugs who try to injure police officers, attack residents and damage property have to be apprehended and dealt with by the courts," Mr Spence said.
"The gang culture has to be broken up so that people can go about their business without fear of being struck by a missile or intimidated."
Skull fractures
The trouble began in Castlereagh Street on Sunday night, when a crowd of about 60 youths attacked police, throwing bricks, blocks and bottles at officers.
One officer was injured by being hit on the shoulder by masonry and the windscreen of an armoured police vehicle was broken.
On Monday night, a 15-year-old English schoolboy, Jordan Else, sustained head injuries during disorder near the Albertbridge Road.
The Nottingham teenager, who was in Belfast to visit his ill grandmother, was attacked as he returned from a take-away restaurant and suffered two skull fractures.
Crowds of youths threw petrol bombs and other missiles at police during hours of disturbances in the Castlereagh Street area and a police office sustained an arm injury in the disorder.
On Tuesday night, crowds of youths gathered in the Beersbridge Road, Foxglove Street, Castlereagh Street, Templemore Avenue and Newtownards Road.
Church attack
Some threw stones and missiles at the police and across the interface, smashing the windows of two houses in the Short Strand area.
A policeman was hit by masonry and sustained a leg injury, becoming the third officer to be hurt in the disturbances.
The houses that were attacked belonged to a pensioner and a young mother. One of the affected residents, a woman in her 70s, was treated for shock.
Police said petrol bombs and fireworks were also thrown at a church on the Newtownards Road but the building was not damaged.
'Small minority'
Ch Insp David Moore said: "These incidents are reckless and have the potential to result in someone getting seriously injured or killed."
He added:"Police are committed to protecting the people of east Belfast despite the attempts of this small minority who are intent on causing trouble but it is important to recognise the resolution to this issue is not solely a policing one.
"We need the support from the local community, local representatives and we need parents to ensure that they are aware of the whereabouts of their children."
Mr Spence also called for residents affected by the disorder to assist the investigation.
"The police are there to serve the entire community, but for them to be effective and restore order, they require the help of the people who, sadly, are bearing the brunt of this mindless violence," the PFNI chairman added.