Omagh bombing: RUC Special Branch 'withheld some information'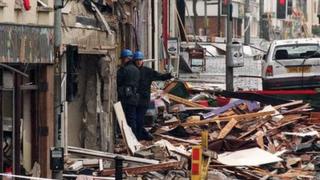 The RUC Special Branch withheld some intelligence information from detectives trying to catch those responsible for the Omagh bombing, a report has found.
Twenty-nine people were killed when a Real IRA car bomb exploded in the centre of the town in August 1998.
The police ombudsman has confirmed Special Branch acted "cautiously" in not disclosing all of the intelligence material available to detectives.
But he does not criticise the decision.
In his report published on Thursday, Dr Michael Maguire said the failure to pass on details of telephone numbers used by the Real IRA gang meant the police had to "invest substantial resources in analysing related records, resources that might well have been better utilised at that early stage of the inquiry".
'Cautious'
Dr Maguire said the Special Branch officers had not provided all of the intelligence because of their interpretation of the law at that time.
"The view held by the relevant police officers was a reasonable one in the circumstances," he said.
Dr Maguire's findings mirror a report in January 2009 by Sir Peter Gibson, who led a government review of intelligence matters related to the bombing.
'Withheld information'
It also concluded that Special Branch had acted in a "cautious" way in their provision of material to the team investigating the bombing.
In March 2010, a report by the Northern Ireland Affairs Committee said it believed "further investigation was required into what Special Branch gave to the investigation team, when it was given, and what information was withheld and why".
The PSNI chief constable then asked the police ombudsman to conduct an independent investigation.
Like the previous report by the former police ombudsman, Nuala O'Loan, in 2001, Dr Maguire says he found no evidence that police had information which could have prevented the bombing.