Sleeping man rescued from chip pan fire in Rosemount, Londonderry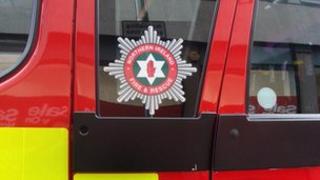 A man who was asleep when a chip pan fire started at his home in Londonderry has been rescued by a passer-by.
The blaze began at a flat in Meadow View Crescent in the Rosemount area of Londonderry at about 19:00 GMT on Wednesday.
A man walking his dog noticed the kitchen was on fire and a person was lying asleep on the sofa.
He tried to waken the resident and called the fire brigade.
The passer-by alerted a neighbour and the pair forced entry into the property and extinguished the flames with a blanket.
The fire service confirmed a chip pan was left unattended in the house. Three fire appliances attended the scene.
The resident was taken to hospital for smoke inhalation.