Bertie Acheson: Man pleads guilty to Coleraine pensioner death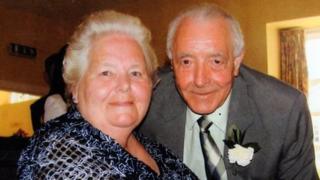 A 41-year-old man has pleaded guilty to the unlawful killing of pensioner Bertie Acheson, 72, in his Coleraine home in April 2012.
Paul James Manolito Toland, originally of The Cedars, Antrim, was accused of the murder of the pensioner.
On Friday, his barrister asked for him to be re-arraigned on both charges.
Toland told Belfast Crown Court that he was not guilty of murder, but guilty of manslaughter.
He then also admitted the robbery of Mr Acheson's disabled wife, Shelia. £335 was taken from her purse.
Following his guilty plea, prosecution counsel, said that it was acceptable to the Crown, and asked for the murder charge to remain "on the books".
The judge remanded Toland back into custody for his case to be dealt with at the end of the trial of his wife, Jennifer Toland, 25.
She was not present in court, and still faces a trial for the murder of the pensioner. Her case is to be mentioned for review in a fortnight.
Sitting in the public gallery, just feet from Toland, watching him as he pleaded guilty to the unlawful killing of her father was his daughter Sandra, supported by her husband and a few friends.
Although no details were given to the court, a previous hearing was told that DNA, allegedly from Toland, a maintenance engineer, and a father of three, was found on a brick said to have been used to smash a window in the pensioners' Glenmore Gardens home.
A police officer had also told one hearing that Mr Acheson and his wife Sheila were woken up by the sound of breaking glass in the early hours of 20 April 2012. The pensioner went to investigate. Mrs Acheson later told police she overheard a verbal altercation between her husband and an intruder, during which money was demanded.
The officer said that Mrs Acheson further claimed she also heard the sound of a scuffle and gasping for breath. However, when she managed to raise the alarm, and ambulance personnel and police arrived, her husband, found on the kitchen floor, was already dead.