Hillsborough drugs: Three men remanded in custody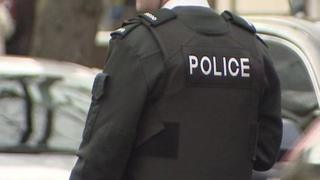 Three men have been remanded in custody at Lisburn Magistrates' Court after the seizure of cocaine, amphetamines and ecstasy in Hillsborough, County Down.
Raymond Emerson, 35, Mervyn Gilfillan, 39, and Eamon Gerard Heaney, 49, were all charged with possessing the drugs with intent to supply.
It followed a search of a property at Dunbeg Park, Hillsborough, on Thursday.
The men are to appear again in court, via videolink, on 17 November.
The trio were also charged with possessing cannabis, while Mr Heaney, from Dunbeg Park in Hillsborough, faces a further count of preventing a meter from registering an electricity supply.
A detective constable told the court that she believed she could connect each of the defendants to all of their respective charges.
Solicitors acting for Mr Heaney and Mr Gilfillan, from Ballysillan Drive, Belfast, said they were not applying for bail for their clients, but the police officer told the court police were objecting to Mr Emerson's release.
Phones
She said police executed a search warrant, issued under the misuse of drugs act, at Mr Heaney's home on Thursday. She said they found the three defendants sitting around a kitchen table which had a half kilogram bag of cocaine on it.
The police officer claimed a bag of ecstasy tablets was also on the table and that further searches of the property uncovered a one and a half kilogram bag of amphetamines, in a bin outside, a one and a half kilogram bag of benzocaine, a commonly used cutting agent used to bulk out cocaine, and a hydraulic press with two plates in an upstairs bedroom.
She claimed the drugs police found were valued at £47,000 and could be worth up to £100,000 when manufactured.
"We say it's a manufacturing house," the police officer added. She claimed "all the equipment was there for mixing the drugs that day".
Mr Emerson, from the Old Forge Lane in Newtownards, claimed during police interviews that he knew nothing about the drugs and had just arrived at the house to play computer games when police arrived.
Objecting to bail, the officer said police feared Mr Emerson would reoffend to recoup losses, adding that mobile phones were being examined to ascertain if others were involved.
The judge refused the bail application and remanded all three men into custody to appear again on 17 November by videolink.