Dissident republicans used mortar in Londonderry police attack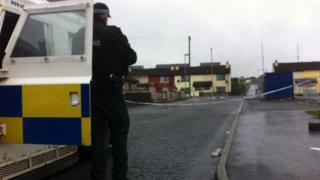 A device that hit a police vehicle in Londonderry is understood to have been a mortar, fired by command wire.
Dissident republicans were responsible for the attack, police have said.
The attack happened on Circular Road in the Creggan Heights area at about 20:40 GMT on Sunday.
The bomb hit a police vehicle and damaged one of the rear doors before it bounced into a garden where it exploded.
The area was cordoned off and a number of homes were evacuated. The alert is now over and residents have returned home.
Speaking to BBC Radio Foyle on Monday, Ch Insp Tony Callaghan said it was "very fortunate" that police officers had escaped injury.
"The threat against our officers is severe," he said.
"We are out there every day trying to protect this community, but there are a few people determined on death and destruction trying to hold us back.
"We will review our security approach, but we will continue to provide a service to all of the people in this city."
Deputy First Minister Martin McGuinness said on Twitter that two shootings in the city at the weekend and the "attempt to kill members of the police service in Derry are futile acts which will achieve nothing for those responsible".
SDLP MLA for Foyle Pat Ramsey described the incident as an "outrageous attack on the community".
He said: "The only thing those responsible for last night did was bring pain and suffering to the people of this city who don't want it or need it."
Detectives investigating the incident want to hear from anyone who may have seen suspicious activity in the area. Anyone with information can also call the confidential service Crimestoppers on 0800 555 111, they have said.