Portadown-Armagh railway: 10,000 sign petition in favour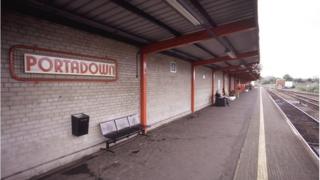 Ten thousand people have signed a petition in favour of re-opening the rail link between Portadown and Armagh.
The petition was submitted on Monday by Stormont by SDLP assembly member for Newry and Armagh, Dominic Bradley.
The link would connect Armagh with the main Belfast-Dublin line, which passes through Portadown.
A rail link between Portadown and Armagh closed in the 1950s and sections of it have been built over.
A new line would have to find an alternative route, according to Mr Bradley, who said: "Hundreds of people from Armagh travel to Belfast, and hundreds travel to Dublin every day."
Funding
Following a consultation carried out earlier this year, the Minister for the Department of Regional Development, Danny Kennedy announced a revised rail strategy in May. He said that it allowed for "the first major extensions to the railway since the closing of lines following the Benson Report in 1963".
The strategy also highlighted other new rail routes including Castledawson to Antrim, and a link between Belfast and Belfast International Airport.
However since then, significant budget cuts have been announced across government departments, making further development in the railway network unlikely.
Mr Bradley admitted that the project would be difficult to fund in the current economic climate. He said that partial match-finding for a feasibility study might be available from Armagh district council.
He said: "We have to think beyond today. These projects take time to develop, and I want to make sure it's entered into the pipeline."