Dalriada hospital: Public meeting to protest at cuts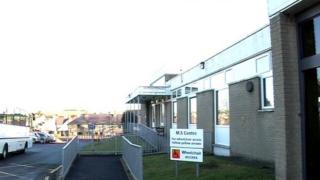 Up to 1,000 people have gathered in Ballycastle, County Antrim, to protest at cuts to Dalriada Hospital.
The MS unit will close at the end of November until March next year, as part of cuts to the health service.
Local people fear it would effectively mean the closure of the hospital.
The MS unit is Northern Ireland's only dedicated respite centre. More than 4,000 people in Northern Ireland are affected by MS, one of the highest rates in the world.
Families caring for loved ones with MS and other serious conditions say they are fearful of what will happen.
Marian McGarry, who cares for her husband, said she was worried.
She said: "If my husband can't get respite, which he would have been getting in Dalriada, if I take ill what's going to become of him?
"In times in the past when I've been ill, he was able to come in and have respite until I recovered."
The MS Society in Northern Ireland has previously said it was "deeply concerned".
The Northern Health Health Trust said the decision was made as part of its financial rebalancing programme and insisted no jobs would be lost as a result of the closure.