On the Runs: Funding affecting Operation Red Field says Drew Harris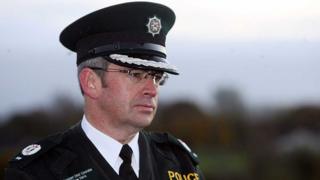 Budget cuts could cause a PSNI review of On the Run cases to take three times as long as had been planned, a senior police officer has told MPs.
Deputy Chief Constable Drew Harris was appearing before the Northern Ireland Affairs Select Committee at Westminster on Tuesday.
The committee is examining the issue of On The Runs letters.
DCC Harris said the PSNI had to fund its review of 36 of the 228 individuals who received letters.
This is in spite the fact that the cases were referred to them by the Northern Ireland Office.
Last month, Northern Ireland's Chief Constable George Hamilton said budget cuts were forcing his organisation into a virtually impossible position.
DCC Harris said police had hoped to have made more progress on the review, Operation Red Field, since he last appeared before the committee in May.
"But the financial straits that we have found ourselves in since then has meant that we haven't been able to resource this work to the extent that we gave the impression in May that we hoped to," he said.
"We had intended to have a team of 30 individuals working on Operation Red Field and we had predicted somewhere in the region of three years to complete this work, but we haven't been able to commit that scale of resource to this, given our financial position.
"It could stretch out to three times as long. So one could be pushing out towards seven, eight [years].
"It is shocking and it gives me no pleasure in giving that sort of timescale, because for a lot of victims and those who have placed their faith in Operation Red Field it's not good news for them and obviously devastating for them."
'Worthy of pursuit'
He added: "There are crimes here that I think are worthy of investigation, in which you could have a reasonable prospect of prosecution.
"It's terrible to sit and say that and know that you're not in a position to resource that type of investigation."
He said many commentators had predicted that there was no hope of a prosecution in the cases and he said in the majority of them that was true.
"But there are instances where justice could be done through investigation and prosecution and I think where that is possible, that is always worthy of pursuit."
DCC Harris said he was still optimistic there could be prosecutions due to constant advances in forensic science and recent successful prosecutions in historical sex abuse cases.
"Every couple of years things just move on and you see a new advance, a new method of proving something," he said.
The committee is looking at how 228 republicans were told they were not wanted for paramilitary crimes committed before the Good Friday Agreement.
On The Runs are those suspected of, but not convicted of, paramilitary offences.
The scheme became the focus of controversy after the collapse of a case against John Downey in February for the 1982 Hyde Park bombing.
The judge dismissed the case after it emerged Mr Downey had a letter from government officials mistakenly telling him he was not wanted by any UK police force. It emerged during the case that several hundred similar letters had been issued.
DCC Harris confirmed the PSNI was still actively looking to see if there was any new or different information about Mr Downey that could lead to him being sought by police.
When asked if Mr Downey would be advised not to travel to Northern Ireland, the deputy chief constable said that would be a matter for Mr Downey.