Vueling launches Belfast City to Barcelona air route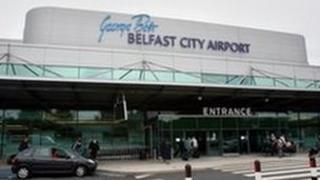 The low-cost Spanish airline Vueling is to operate in Northern Ireland for the first time, with a service between Barcelona and George Best Belfast City Airport.
It will begin next May and operate twice a week.
Vueling is part of International Airlines Group (IAG), which owns British Airways.
Belfast City Airport chief executive Brian Ambrose said the airline had ambitious plans for growth.
"It remains our aim to attract new airlines to Northern Ireland and facilitate more direct European routes from Belfast," he said.
"We are therefore delighted that Vueling has chosen to include Belfast City Airport as one of a select few UK airports in its plans to expand its network."
Tourism Ireland chief executive Niall Gibbons said: "We look forward to co-operating with Vueling to maximise the promotion of this new service from Barcelona.
"As an island, the importance of convenient, direct, non-stop flights cannot be overstated - they are absolutely critical to achieving growth in inbound tourism."
Barcelona El Prat is Vueling's base of operations.