Fire on board cargo ship in Warrenpoint Harbour under control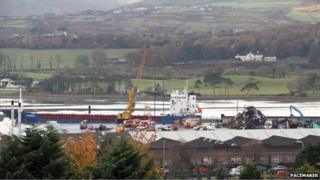 A fire onboard a cargo ship docked at Warrenpoint Harbour has been brought under control.
The alarm was raised at 08:25 GMT on Tuesday after 1,000 tonnes of animal feed were found to be overheating.
A specialist marine response team from Belfast was sent to the scene, along with six fire appliances and a hydraulic platform.
Firefighters discovered two seats of fire and flooded the grain with carbon dioxide to put the fire out.
The ship arrived from Riga in Latvia earlier this week.
A Fire Service spokeswoman said there had been no significant risk to life or the environment.