Large diesel laundering plant found in south Armagh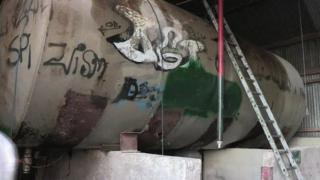 One of the largest amounts of toxic waste from fuel laundering found in the UK has been discovered in south Armagh.
Customs officials have said the discovery has averted "a potential environmental disaster".
Up to 50 tonnes of sludge, which is produced as part of the process of illegally laundering diesel, was found in a farm shed just outside Forkhill.
It is understood the plant was capable of turning out 20 million litres of illicit fuel every year.
The cost to the taxpayer is an estimated £12.5m in lost taxes.
As well as the toxic waste, 2,000 litres of illicit diesel, pumps and equipment were recovered during the operation.
Laundered fuel is discounted red or green diesel, which has been filtered through chemicals or acids to remove the government marker that shows the fuel is for agricultural or industrial use only.
HMRC senior investigation officer Derek Dubery said: "This is going to cost £400 per tonne to clean up and there are 50 tonnes. That's a lot of money that could be spent on more essential public services."
Evidence
He said the only way the fuel launderers could be beaten was with the help of the public.
"Clearly people want to buy cheaper fuel. What people have to ask themselves is whether they support organised crime; whether they support damage to the environment," he said.
"Because if they don't support organised crime, if they don't want to see damage to the environment, then they shouldn't be buying this fuel."
HMRC officers and the police were joined in the operation by officials from the environmental crime unit of the Northern Ireland Environmental Agency.
No-one has yet been arrested in connection with the find, but Mr Dubery said forensic officers were at the scene looking for evidence to connect offenders to the plant.
"If we can provide that evidence and give it to the prosecution service, then people will be brought before the courts; that's the best that we can do," he said.
He also said that the fight to put the launderers out of business will go on.
"We will do our bit, we will improve the markers in the fuel, we will make this process more difficult. But it will be a constant battle," he said.
"While there is a market, while there are people out there buying it - just like drugs - while there are people there to buy it, there will always be people there to sell it."