Barra McGrory 'should resign' as DPP, says DUP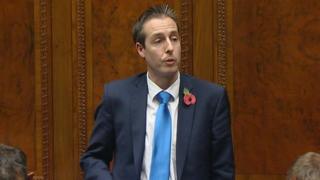 The chair of the assembly's justice committee has called on the Director of Public Prosecutions to consider his position.
The DUP's Paul Givan said Barra McGrory's credibility had been called into question.
He attacked the "failure" to publish a review of a decision not to prosecute Sinn Féin's Gerry Adams for allegedly withholding information on his brother.
Liam Adams was convicted of raping and abusing his daughter, Áine.
Mr McGrory had asked the Attorney General, John Larkin, for a review of the decision not to prosecute Mr Adams.
Speaking during a debate on Maíria Cahill in the assembly on Tuesday, Mr Givan accused the Public Prosecution Service (PPS) of "burying" the report from the Attorney General.
"This party will not stand for any whitewash which, I believe, is being engaged (in) by the Public Prosecution Service," he said.
"And it is of concern to me, given the role that the current Director of Public Prosecution service had in representing senior republicans, that he is having to step aside repeatedly because of that conflict of interest.
"The handling of this case in respect of Gerry Adams concerns me and I believe it is calling into question his credibility. Public confidence in the PPS is critically important for that organisation and the wider criminal justice system.
"I believe Barra McGrory, given the way the previous case has been handled, given the conflict that he has, should be considering his position as the Director of the Public Prosecution Service."
In response, the PPS said it had "clearly and consistently stated" that the report by the Attorney General "would not be published until due process has been completed in relation to an appeal by Liam Adams, which is listed for hearing in March 2015".
"In such circumstances it would be wholly inappropriate to publish at this time," it said.