Newry-based First Derivatives makes £3.7m profit in first half of 2014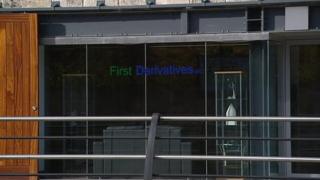 First Derivatives, the Newry-based financial technology firm, made profits of £3.7m in the first half of 2014.
That compares to £3m during the same period in 2013 and was achieved on turnover of £37.5m.
Growth was driven by the consulting side of the business where revenues increased by 19% to £27.7m.
Revenues from software sales were down 11% to £9.8m, partially due to currency issues.
The company said it expected double-digit growth in software revenues over the full year.
It added that the second half has "started strongly...both in terms of business performance and growth in our sales pipeline."
In October, First Derivatives paid £36m for a majority stake in a US software firm.
Kx Systems, which is based in Palo Alto, California, makes high performance databases using a technology called kdb+.
Its customers include banks such as Goldman Sachs and Morgan Stanley.
First Derivatives already held a 20% share in the firm, but the deal takes its holding to 65%.
Brian Conlon, chief executive of First Derivatives, said the deal was "transformational" for the two companies.