Police drivers 'not trained before Warrenpoint crash'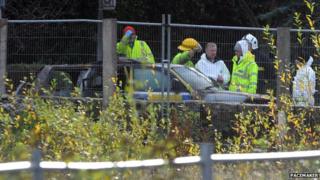 Police drivers were not adequately trained in safety features of armoured jeeps before a crash that killed four officers, an inquest has heard.
Constables Kevin Gorman, James Magee, Kenny Irvine and Declan Greene were killed in November 2008 near Warrenpoint, County Down.
The police vehicle they were travelling in struck a wall as they responded to a call for assistance.
A constable said when she arrived at the scene, the vehicle was on fire.
She told the Coroner's Court that she felt "desperation and disbelief" when she could not open its doors.
The constable said she had not been told there was an escape route.
She told the inquest that she had felt nervous driving her own armoured jeep at speed in wet conditions on the day.
Pathology reports showed that the officers died because they inhaled fire fumes and received burns, and not because they were injured in the crash.
The inquest continues.