Jason McGovern friend 'cannot remember attack'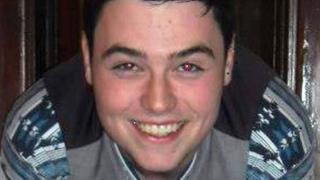 A friend of Monaghan teenager Jason McGovern, who died after being attacked in Omagh, has told a court that he does not remember anything about the attack.
Liam Williams suffered a fractured jaw outside a bar in the County Tyrone town on New Year's Eve 2012.
A teenager has pleaded guilty to carrying out that assault.
Mr McGovern, 19, from Tydavnet, was attacked a second time at a nearby car park. He was punched once and hit his head as he fell to the ground.
Mark Donnelly, 22, from Greencastle Road in Omagh, denies manslaughter and affray.
Liam Williams said he was with Mr McGovern and a group of friends who travelled from Emyvale to Omagh by taxi.
As they left a nightclub at the end of the night he said he and Mr McGovern were assaulted.
He told the court: "I was very angry, because after having a good night it's not something you would expect to happen."
He said they went to find their taxi and he did not see Mr McGovern being attacked.
"I don't recall a further confrontation involving me. I don't remember anything. I just remember getting into the taxi," he said.
The trial also heard from the taxi driver who was waiting for Mr McGovern and his friends.
She described seeing a "squabble" on the side of the street.
She said: "All of a sudden this guy came running down and hit Jason. He then disappeared up the hill. He hit him one box and Jason fell."
She said the attacker wore a white or light shirt, but the court was told she did not identify Mark Donnelly during an identification procedure at the police station.
Lying on floor
A friend of Mr McGovern, Gary Landers, described finding him at his house the following day. He said he had fallen out of the bed and was lying on the floor.
He called for help but said there was nothing the paramedics could do.
"I just looked at their faces and realised he was dead," he said.
Dr Michael Curtis, the deputy state pathologist for the Republic of Ireland, carried out a post mortem examination.
He said Mr McGovern died from a fractured skull which tore an artery and resulted in a massive blood clot causing pressure on his brain.
He was asked if it was possible the injury could have been caused by falling from the bed onto a wood laminate floor.
"I would have thought that was highly improbable," he said.
The trial at Dungannon Crown Court continues.