Kevin McDaid death: David Craig Cochrane jailed over row with son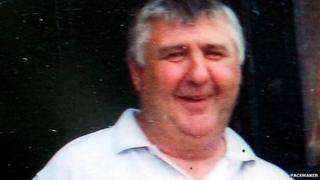 A Coleraine man given a suspended sentence over the death of a Catholic community worker has been jailed over an altercation with the victim's son.
David Craig Cochrane, 24, of Windyhall Park, was one of a number of men sentenced in July for their roles in the May 2009 death of Kevin McDaid.
The 49-year old died of a heart attack after he was attacked by a group of loyalists in the Heights area.
Cochrane was jailed for six months for breaching his suspended sentence.
The attack on Kevin McDaid followed an Old Firm football match between Rangers and Celtic.
Cochrane was handed a year's prison sentence, which was suspended for two years, after he admitted a charge of affray.
He was arrested for disorderly behaviour - which amounted to breaching his suspended sentence - just five weeks after sentence was passed.
During Wednesday's breach hearing, a judge was told by a prosecutor that on 9 August an incident involving Cochrane and Ryan McDaid took place in Killowen Street close to the Heights area.
Telling the judge the incident involved "verbal abuse and hand gestures to Ryan McDaid", the prosecutor said there was a "direct correlation" between what happened in May 2009 and the "fresh offence" in August.
The court heard that as Mr McDaid and a friend were working on a trailer outside Mr McDaid's home, Cochrane and four friends walked past. Cochrane shouted an abusive name at the two men and made a hand gesture towards Mr McDaid, shouting "you stabbed your da."
The prosecutor said this comment appeared to be a reference to a newspaper report that claimed Mr McDaid had accidentally stabbed his father on the day he died, but there was "no basis" for that allegation.
Cochrane was arrested for disorderly behaviour. He appeared in court on 27 October when he received a three-month prison sentence, which was subsequently reduced to six weeks following an appeal.
Gave his name as Mickey Mouse
Cochrane currently has three weeks of that sentence left to serve, and was back before Belfast Crown Court on Wednesday regarding the breach of the suspended sentence that was imposed in July.
The court heard that part of the incident on 9 August was witnessed by a police officer, who saw Cochrane gesturing at Mr McDaid and who warned Cochrane to "keep walking on". Despite the warning, Cochrane made a second hand gesture to Mr McDaid, and when he was arrested, he told officers his name was Mickey Mouse.
A defence barrister said that Cochrane was provoked and that as he was walking along Killowen Street with several friends, Mr McDaid saw him and shouted to him, calling him a murderer and threatening to kill him.
The judge told the barrister: "Your client started this. He knew what he was doing."
She added: "Regardless of what happened, he made hand gestures. If the police hadn't been there, what do you think was going to happen? There was going to be a fight, five on two."
The judge also said that while she accepted there may have been "some provocation", Cochrane should have walked away - especially after being warned to do so by a police officer.
Addressing Cochrane, the judge told him: "The appropriate way to deal with this is to give you a sentence of six months" which she said would be served on top of the sentence he was given for disorderly behaviour."