October NI car sales up 9% on 2013 says SMMT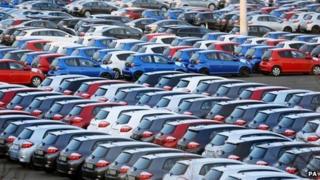 New car sales in Northern Ireland rose by almost 9% in October compared to the same month in 2013, according to industry figures.
The data from the Society of Motor Manufacturers and Traders shows 3,843 new cars were registered in October.
A total of 51,839 new cars have been sold in Northern Ireland so far this year, up more than 9% on last year.
New car sales in Northern Ireland have been on an upward trend over the last two years.
The figures are seen as a good measure of the consumer economy in Northern Ireland as there are no general retail sales figures.
Analysis by the Ulster Bank economist Richard Ramsey suggests new car sales in Northern Ireland are still almost 20% below their pre-recession peak.
In comparison, sales for the UK as a whole are back above the pre-recession peak.