Sammy Wilson asks if DUP colleague Jenny Palmer lied to committee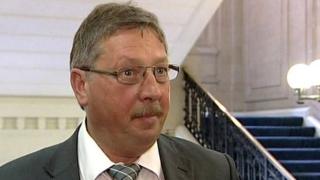 MP and MLA Sammy Wilson has questioned whether a DUP colleague was lying in evidence to a Stormont committee.
Lisburn councillor Jenny Palmer told BBC Spotlight a party special adviser pressured her to change her vote in a Housing Executive board meeting.
She repeated the claims to the Social Development committee.
As a result of the programme, it is holding an inquiry into claims of political interference in the running of the Housing Executive.
But her version of two conversations she had around what happened differs from that of senior civil servant Michael Sands who has also appeared before the inquiry.
One conversation concerned an email that Mr Sands sent to the Housing Executive on behalf of DUP special adviser Stephen Brimstone
Mr Wilson put it to Mr Sands that Mrs Palmer was not telling the truth.
"Here are two fairly crucial conversations which she has used as evidence that her version of events is correct and you're saying in both occasions she's lying," he said.
However, Mr Sands denied he was accusing her of lying.
The acting committee chairman Mickey Brady of Sinn Féin reminded Mr Wilson that Mr Sands had not mentioned the word "lying."
Mr Wilson agreed he had not used the word, but when Mr Brady accused him of an inference he replied: "No it's not an inference. One person is telling the truth and the other person is telling a lie."
Mr Brady replied: "Can I say yet again if someone considers someone is telling a lie, that's a subjective judgement on your behalf."
Another Sinn Féin member, Fra McCann, added: "Sammy in the past has accused members of this committee of having a particular bias against people that have come and gave evidence, but it's quite clear that he has a particular bias against Mrs Palmer and the evidence that's she's given and I know that it wasn't Michael that accused her of lying, but it was Mr Wilson that accused her of lying."
Traditional Unionist Voice leader Jim Allister, who is also on the committee, later tweeted: "Quite shocked that at DSD committee Sammy Wilson suggested his colleague Cllr Jenny Palmer is a liar. She appeared to me an honest witness."
Red Sky
Meanwhile, a former managing director of the now defunct contractor Red Sky has told the committee that if the company had engaged in fraud it was "Housing Executive-sponsored fraud".
The construction company's maintenance contracts were cancelled by the Housing Executive over substandard work and financial irregularities.
Peter Cooke told the Social Development Committee that, for instance, the company was paid extra for a contract when it involved removing a dead body from a property.
Mr Cooke was giving evidence as part of an inquiry into "impropriety or irregularity" around Housing Executive managed contracts.