Willie Frazer's challenge over George Galloway remarks fails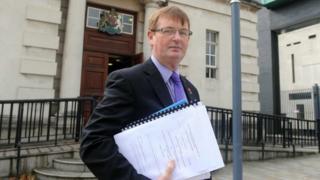 Willie Frazer has failed to be discharged from an undertaking not to repeat allegedly defamatory comments about George Galloway on social media.
The proceedings centre on a speech by the loyalist campaigner at a protest outside the Ulster Hall in Belfast.
Demonstrations were staged against Mr Galloway's appearance there in August.
Mr Frazer's application was rejected amid new opposition to him enlisting a high-profile union flag protester to offer courtroom advice.
With Mr Frazer defending the Respect MP's action without a lawyer, he has brought in Jamie Bryson to act his non-legally qualified 'McKenzie friend'.
But counsel for Mr Galloway claimed that his involvement was inappropriate due to alleged comments on social media.
'He's laughing'
The barrister told Belfast High Court: "I'm deeply unhappy about Mr Bryson being involved as a McKenzie friend in this case.
"My attention has been brought to his blog this morning in which he's made various observations about the Northern Ireland justice system."
Sitting just a few feet away at the legal tables, Mr Bryson appeared taken aback by the objection to his involvement.
The barrister continued: "He's laughing, but he has said when you enter a Northern Ireland courtroom you enter a sham. That's on his blog."
A judge was told the plaintiff's legal team want to carry out further research before deciding whether to mount a bid to have Mr Bryson excluded.
Respect MP Mr Galloway is suing Mr Frazer and internet giant Google for alleged defamation and harassment over what was said at the 23 August picket and posted online.
Video viewed 17,000 times
The MP for Bradford West claims sectarian and false remarks about him at the picket constituted hate speech that significantly heightened tensions.
In legal papers he listed a series of allegations made about him, categorically denying them all.
A video allegedly posted on YouTube by Mr Frazer of his protest speech at the scene was viewed more than 17,000 times.
In September, Mr Frazer gave an undertaking not to republish the comments on social media until the wider action was determined.
But he returned to court seeking to be relieved from that pledge because of the anticipated length of time it could take to deal with the case.
He also claimed to have uncovered new "offensive" information through his own research.
Refusing his application, however, the judge said the legal test involved establishing new facts that could not reasonably have been discovered at the time of the undertaking.
"I do not consider there is appropriate material to discharge," he confirmed.
'Wish I had stuck to my guns'
Following his verdict, Mr Galloway's barrister sought an order for costs of the hearing.
"This application was wholly unmeritorious and should never have been brought," he argued.
Mr Frazer responded by claiming he would never have agreed to remove the allegedly defamatory posting if he had known what was to follow.
"I wish now I had stuck to my guns, but I didn't because I was ignorant of how the law works," he said.
Following submissions the judge held that a decision on costs should be adjourned until after a final outcome in the case.