Cliftonville goalkeeper Conor Devlin wins assault appeal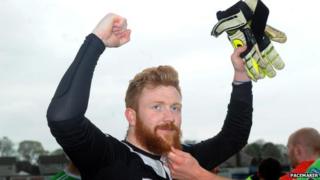 Irish League goalkeeper Conor Devlin has won his appeal against being convicted of a nightclub assault on a rival player.
The Cliftonville player was cleared of having committed a criminal offence by punching Glentoran's Jim O'Hanlon.
The incident happened after O'Hanlon repeatedly felt Devlin's facial hair.
The judge said: "I believe it was an action which he believed to be proportionate."
Devlin had maintained a self-defence case.
Compensation
The judge also took into account Mr O'Hanlon's alleged drunken behaviour and the goalkeeper's efforts to put him into the recovery position immediately after the single blow led to him being knocked unconscious.
Mr Devlin, who was once on the books at Manchester United, showed little emotion as he left the dock.
He also declined to comment outside court.
In August he had been fined £400 and ordered to pay a further £400 in compensation after being found guilty of assault occasioning actual bodily harm
But the 23-year-old continued to protest his innocence and returned to court in order to clear his name.
At an earlier hearing the two footballers gave conflicting accounts of how violence flared during an encounter at a nightclub in the city's Odyssey complex in January.
Both had been out after their teams played in separate Irish Cup matches.
Mr O'Hanlon recalled arriving with friends and then joining up with Mr Devlin's group through mutual friends.
He claimed to have stroked the goalkeeper's beard in friendly banter and being told to stop it.
His next memory was of waking up in hospital, covered in blood and requiring seven staples in a head wound.
According to the defence, however, Mr O'Hanlon pulled or yanked the goalkeeper's beard up to five times.
Mr Devlin, of Hightown Rise in Newtownabbey, County Antrim, finally delivered a single punch because he feared a possible head-butt, it was claimed.
'Annoying'
Regarded as one of the most high-profile Irish League players, he signed for Manchester United as a 16-year-old and made it to the Premier League giant's reserve team.
He has also represented Northern Ireland at under-21 level and twice been called into the senior squad for international matches.
Since signing for Cliftonville he helped the north Belfast club to the last two Irish League titles.
Dressed in a dark suit, he sat impassively in the dock during his appeal against conviction.
A prosecution lawyer accepted Mr O'Hanlon's behaviour in stroking the defendant's beard would have been "somewhat annoying", but claimed the goalkeeper should have just walked away.
Defence counsel argued that the case should be halted without any need for his client to give evidence.
Granting the application, the judge referred to nightclub CCTV footage that showed Mr O'Hanlon dancing and apparently in an "intoxicated state".
He said: "It would appear his body actions were not those of someone in complete control and it was clear he was, on occasion, making a bit of a nuisance of himself in the party he had joined."
Unconscious
Although he could not be satisfied the Glentoran player "grabbed" Mr Devlin's beard, the judge said there had been unwelcome touching of it.
Posing the question of whether he could be satisfied beyond reasonable doubt that the goalkeeper's response amounted to a criminal offence, the judge said: "There was one blow which had the unfortunate consequence that it did.
"The reaction of Mr Devlin immediately thereafter was to go down and try to pull Mr O'Hanlon up off the ground.
"He realises this man is unconscious and puts him in the recovery position."
On the facts presented to him, he held that the prosecution had failed to establish its case.
"I therefore grant the application to stop the case at this stage and allow the appeal."
Mr Devlin was then told he was free to leave the dock.