Fermanagh cannabis seizures bring total for week to £500k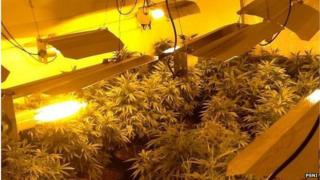 Police in Northern Ireland have uncovered three cannabis factories in County Fermanagh. Initial estimates value the find at £200,000.
It comes in a week of high value cannabis seizures across Northern Ireland.
Police had previously issued details of seizures this week in Bangor, Larne, Ballymena and Belfast.
The County Fermanagh discoveries bring the total estimated value of cannabis seized this week to around £500,000.
Police searched two houses in the Florencecourt area, Fermanagh on Thursday and uncovered 400 plants and growing equipment.
A 24-year-old-woman was arrested on suspicion of cultivating cannabis and abstracting electricity.
During a search of a third property on Derrylin Road, Bellanaleck, on Friday, officers found 77 cannabis plants being grown inside the house.
A wooden shed had been built inside the property, containing pots, fans and lighting equipment.
Police have not yet valued the haul discovered in Bellanaleck.
Week of finds
On Wednesday, police in Larne recovered over 60 cannabis plants worth £34,000, following a search on Crosshill Road.
A further £180,000 of cannabis was discovered by the organised crime branch in east Belfast on the same day.
Smaller finds worth £7,000 in the Shankill area of Belfast, and £5,000 in Bangor were also made during the week.
An undisclosed amount was recovered in Ballymena on Tuesday, 4 November.
The Fermanagh arrest brings the total of arrests associated with the seizures to five this week.
Between April and August this year police uncovered a total of 49 cannabis factories.
Assistant Chief Constable Drew Harris said in September: "More than two cannabis factories are being uncovered every week in Northern Ireland. They are illegal and they are dangerous.
"The money generated by them runs into millions of pounds. That's money going into the pockets of organised criminals, used to fund even more criminal activity."