Bangor murder: Three to stand trial over Stephen Davidson's murder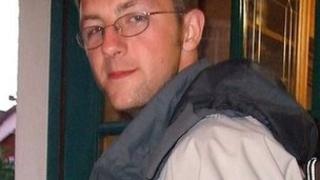 Two men and a woman are to stand trial next year charged in connection with the murder of a man in County Down.
Paul Stephen Bustard, 41, of Bush Park, Antrim, denied murdering Stephen Liam Davidson at his home in Ballyholme Road, Bangor, on 10 February 2013.
Police at the time said he had died as a result of a "violent struggle".
Mr Bustard entered his not guilty plea on Friday at an arraignment hearing at Downpatrick Crown Court, sitting in Belfast.
Meabh Breanda Mairead Farrell, 32, whose address was given as c/o Women's Aid, Deerpark Road, north Belfast, pleaded not guilty to two counts of assisting offenders and one of perverting the course of justice between 9 February and 12 February 2013.
'Self-defence'
It is alleged that she caused injuries to her body to assist Mr Bustard in alleging that he was "acting in self-defence" in the murder of Stephen Davidson
She is also accused of removing and concealing evidence from the scene, namely clothing and a mobile phone belonging to the deceased.
She is also accused of an act that would impede the apprehension or prosecution of Mr Bustard, namely assisting him to find accommodation in order to evade detection by the police.
James Owen Gawn, 51, of High Street, Bangor, pleaded not guilty to withholding information about Mr Bustard's alleged involvement in the murder.
He further denied a charge of assisting offenders by providing Mr Bustard with accommodation with "intent to impede his apprehension or prosecution".
Mr Bustard's mother, Olywn Bustard, 63, of Rugby Avenue, Bangor, did not enter any pleas at the hearing.
She is accused of withholding information and assisting offenders, namely sending her son a text message advising him to switch off his phone to "impede his apprehension or prosecution".
Her defence barrister asked for her arraignment not to go ahead on Friday as there was an issue surrounding her "fitness to plead".
He said that as a result of "significant issues" surrounding her health, a psychiatrist had requested further information by way of a MRI scan. He said the results of the scan would then be examined by neurological consultant.
The trial, which is expected to last up to three weeks, was listed for hearing next February.
Stephen Bustard and Ms Farrell were remanded back into custody and Mr Gawn and Olywn Bustard were freed on continuing bail.