Ulster Bus passengers describe bridge crash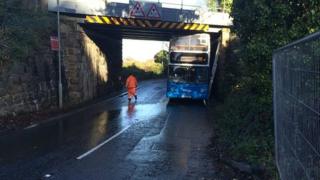 Two passengers who were on board a bus as it struck a railway bridge in County Down on Thursday night have criticised Translink's handling of the incident.
Gareth Hawthorne and Mark Ferrin were on the top deck when the double decker bus struck a bridge near Helen's Bay.
They claimed it hit an arched bridge and after stopping to inspect damage, the driver "drove on" a short distance.
In a statement on Saturday, Translink said the bus involved "was at no time stuck under the bridge".
Mr Hawthorne and Mr Ferrin also claimed that daytime pictures of the vehicle showed Translink's attempt to get the bus under a second, nearby bridge.
'Thorough investigation'
A Translink spokesperson said: "We can confirm that the vehicle which was involved in a bridge strike on Thursday evening, was at no time stuck under the bridge and struck only one bridge on route to Helen's Bay train station.
"We will be conducting a thorough investigation into the incident and will be reviewing CACTI footage from the vehicle as part of this investigation."
There are low railway bridges on both roads into Helen's Bay, and as a result only single decker buses are used on routes into the village.
The Ulster Bus vehicle was a rail substitution service from Belfast to Bangor, laid on due to problems on the rail line.
The driver had earlier collected passengers at Belfast Central train station.
Mr Ferrin said they approached Helen's Bay at about 21:00 GMT and there was a "bang" as the bus struck the railway bridge.
The impact caused a front window to shatter on the top deck.
He said an elderly man who was sitting near the front window was covered in a dust-like debris and the passengers around him were "very shocked".
Mr Ferrin and Mr Hawthorne said the driver, who briefly got out of the bus to inspect the damage, then got back behind the wheel and told the shocked passengers he was driving on.
Mr Ferrin said he heard a "scraping noise" as the roof of the bus passed along the arched bridge.
Mr Hawthorne, who is on a work placement with BBC Northern Ireland, said he and other passengers then got out of the vehicle when it stopped a short distance away, close to Helen's Bay train station.
He said some passengers were using their mobile phones to try to arrange lifts.
Mr Hawthorne reported the incident to staff at the train station, which is also run by Translink, but claimed rail staff did not appear to be aware that a bus had struck a nearby railway bridge.
Both men said they have made formal complaints to Translink.
A Translink spokeswoman said the passengers' allegations would be investigated as part of its ongoing investigation into the incident.
The bus was parked in Helen's bay overnight, and on Friday morning a team that included engineers worked to find a way of safely manoeuvring the double decker back out of the village under a bridge.
At one stage, they removed air from the tyres.