Northern Ireland talks to be intensified says Theresa Villiers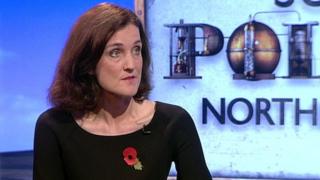 The secretary of state has said that talks aimed at resolving a number of issues in Northern Ireland will be intensified this week.
The talks, which began last month, are focusing on a number of issues, including flags, parades and the past.
The failure to reach an agreement on welfare reform is also being discussed.
Theresa Villiers said the talks were going well and she was optimistic progress could be made.
"I've been impressed at the constructive and positive approach demonstrated by all the parties," she told the Sunday Politics programme .
"It's a hugely difficult task that we have, but I think everyone is taking it seriously and next week we will be intensifying the process. There was a shared recognition that we should intensify things next week.
"The parties are still fairly far apart on issues like welfare reform, also on the past. But I think there is a general recognition that we can't go on as we are that we do need to find an agreed way forward on a number of these issues.
"So I am optimistic that we will be able to make some progress , but it is a hugely difficult task."